Did you know that you don't need to go on crash diets, cut back on carbs or exercise all day long in order to lose fat?
In fact, study after study confirms that cutting out carbs or calories only creates a temporary loss in weight… usually followed up by a plateau in weight loss and then ultimately weight gain – the dreaded "yo-yo" effect.
If your goal is to burn fat, lose weight and to keep it off for good then you also don't need to spend countless hours in the gym or on a treadmill…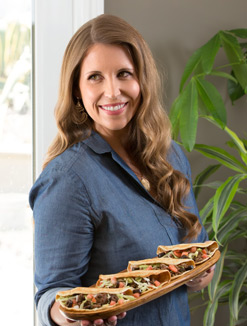 …because there's a better way.
What if I could show you how to eat your favorite meals and America's most popular comfort foods and STILL lose fat, reach your ideal weight, and have all day energy without starving yourself, counting calories, or eating bland tasteless food?
Hi, I'm Diana Keuilian, fat loss chef, certified personal trainer and author of the best selling cookbook, The Recipe Hacker.
Since 2009 I've been hacking Americas favorite recipes, which pretty much means I make them healthy and fat burning. And as a fitness expert and fat loss chef, my mission is to help people just like you unlock the secret to losing weight all while eating your favorite meals.
Like you, I struggled with my weight ever since elementary school. In fact, throughout the years I've tried over 100 different diets and exercises programs. I've tried being a vegan, a vegetarian, eating raw, as well as the probiotic diet…
…I've tried blood type diets, fasting, thousand calorie diets and only soup diets.
Nothing worked for me until I discovered and eliminated the five deadly ingredients hidden in most meals that cause weight gain, fat storage, destroy your metabolism and drain your energy.
But, after removing these five fat storing ingredients the weight practically fell off my body on a daily basis without having to count calories, go on crash diets or endure tasteless bland foods.
Imagine that… eating your favorite meals and deserts and consistently burning off the belly fat and losing weight. And it didn't just work for me, it worked for these people, too.